Climate Services
In addition to being experts in their respective fields, Climate Central's staff have developed innovative programs that draw upon the use and translation of large climate datasets for our partners.
Research shows that meteorologists are trusted messengers on climate change. The majority understand that climate change is real and that the science of climate change needs to be communicated to the public.
Unlike climate scientists, TV meteorologists have unparalleled access to their communities. Through Climate Matters, Climate Central provides regularly produced content on the relationship between weather and climate. Our team of data analysts, meteorologists, climate experts, graphic artists and journalists create graphics, text, animations, videos and research to aid TV weathercasters in presenting science-rooted climate information in clear, concise and relevant ways.

Each week, we create high-quality information and graphics for our partner meteorologists including:
Localized data and analyses that show the ways that the climate is changing in their markets
TV-ready graphics and multimedia content for use across all platforms – including maps, interactive tools, severe weather trackers, temperature trend charts – that convey climate change powerfully and accessibly to general audiences
Extreme weather analyses produced in the news cycle so that weathercasters have reliable climate data as storms are happening—and when millions of people are paying attention
Since 2012, Climate Central's program has grown to include more than 500 local TV meteorologists who routinely reach millions of viewers.
**For more information on Climate Matters, please contact Bernadette Woods Placky, Meteorologist: bplacky@climatecentral.org (609.986.1998)
Two years in the making, our sea level rise project allows you to search or navigate interactive maps to see areas below different amounts of sea level rise and flooding — down to neighborhood scale — matched with area timelines of risk. The tool also provides statistics of population, homes and land affected by city, county and state, plus links to reports, fact sheets, action plans, embeddable widgets and more.
A Major Expansion
On the 1-year anniversary of Hurricane Sandy, Climate Central released a new and improved interactive map for New York and New Jersey, with Florida and eight other states coming online shortly after, showing areas vulnerable to flooding from combined sea level rise, storm surge, and tides, or to permanent submergence by long-term sea level rise.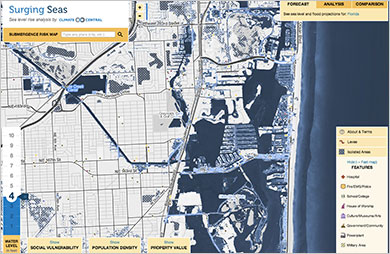 The new map incorporates the latest, high-resolution, high-accuracy lidar elevation data supplied by NOAA, displays points of interest, and contains layers displaying social vulnerability and population density. It provides the ability to search by location name or zip code.
Climate Central will launch the web tool for all U.S. coastal states on a state-by-state basis, starting in 2014.
Currently Available for: California |Connecticut | Florida | Maine |Massachusetts | New Hampshire | New Jersey | New York | Oregon | Rhode Island | Washington
Surging Seas Risk Finder
In addition to the new map, Surging Seas' recent expansion includes an interactive searchable data toolkit that shows populations, infrastructure, and assets exposed to coastal flooding aggravated by sea level rise.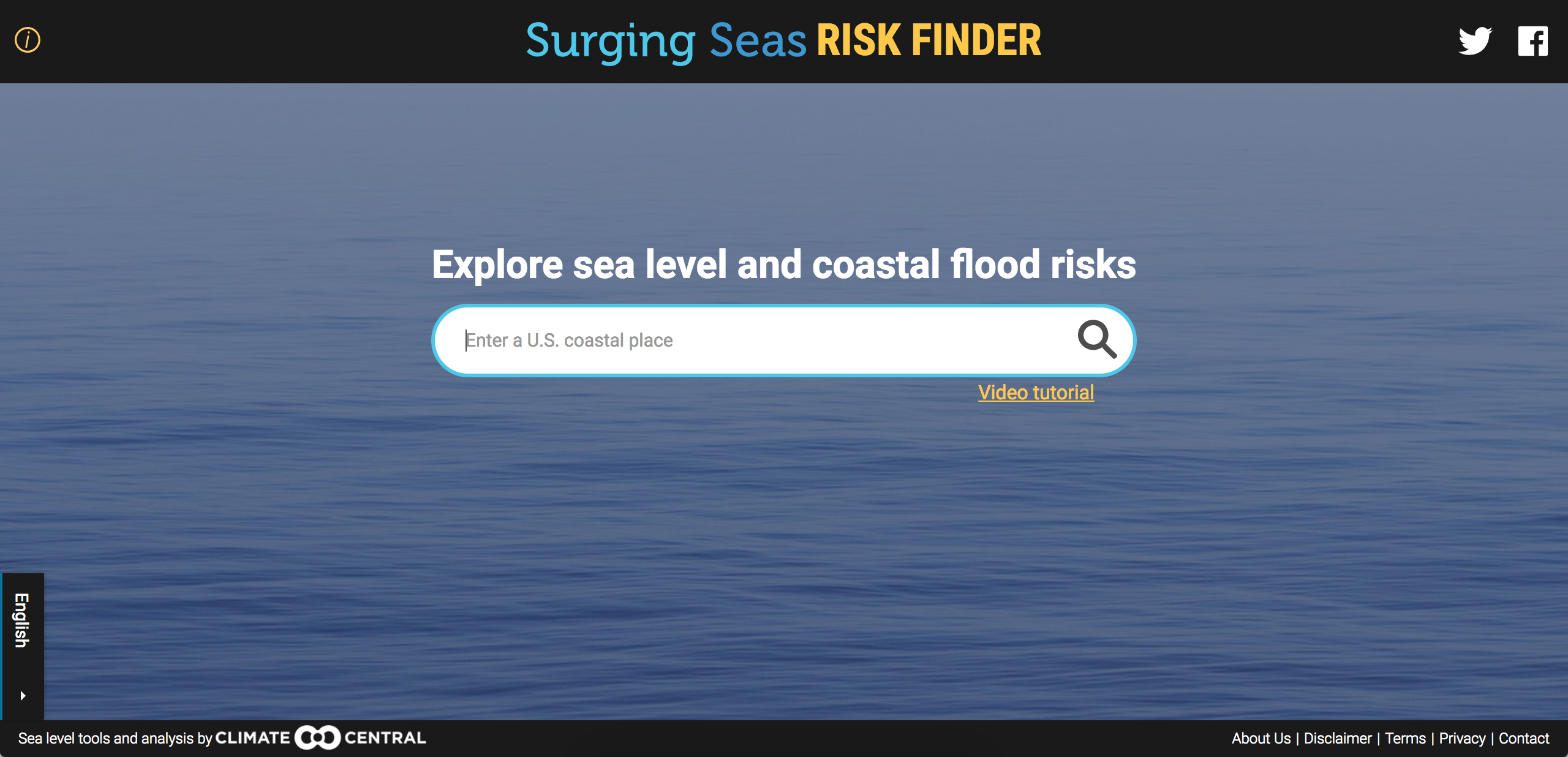 The Risk Finder incorporates the latest, high-resolution, high-accuracy lidar elevation data supplied by NOAA and assesses exposure of over 100 infrastructure and other elements — from airports to road miles, from schools to hospitals to wastewater treatment plants — in order to allow users to explore vulnerability from zip code through city, county and state levels. It provides the ability to compare risk across areas, as well as the ability to analyze the likelihood of coastal flood and sea level threats occurring in the future by decade.
Currently available for 23 coastal states and Washington D.C.
**For more information on Sea Level Rise, please contact Dan Rizza, Manager for External Relations and Business Development for Climate Central and the Program on Sea Level Rise: drizza@climatecentral.org